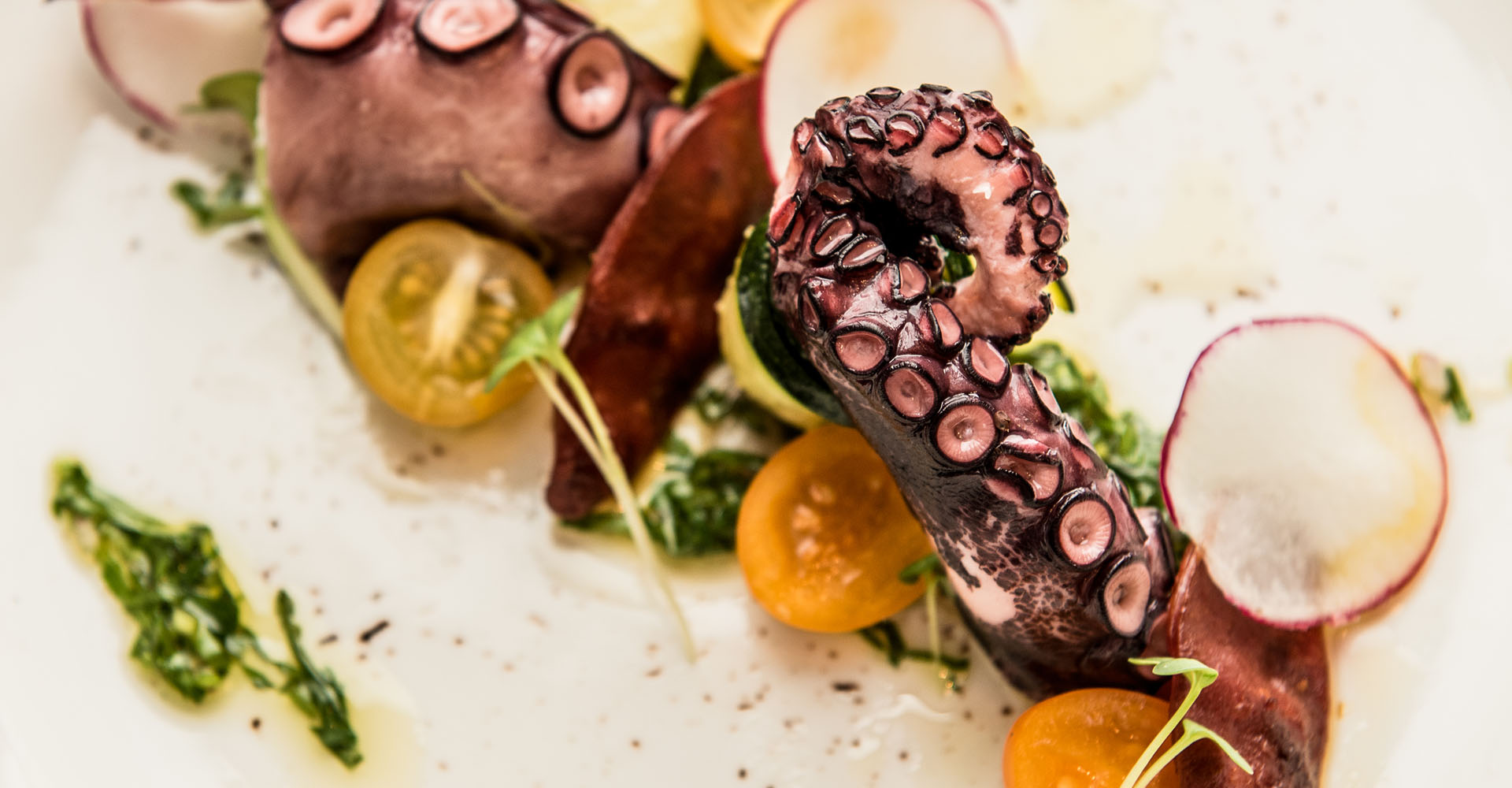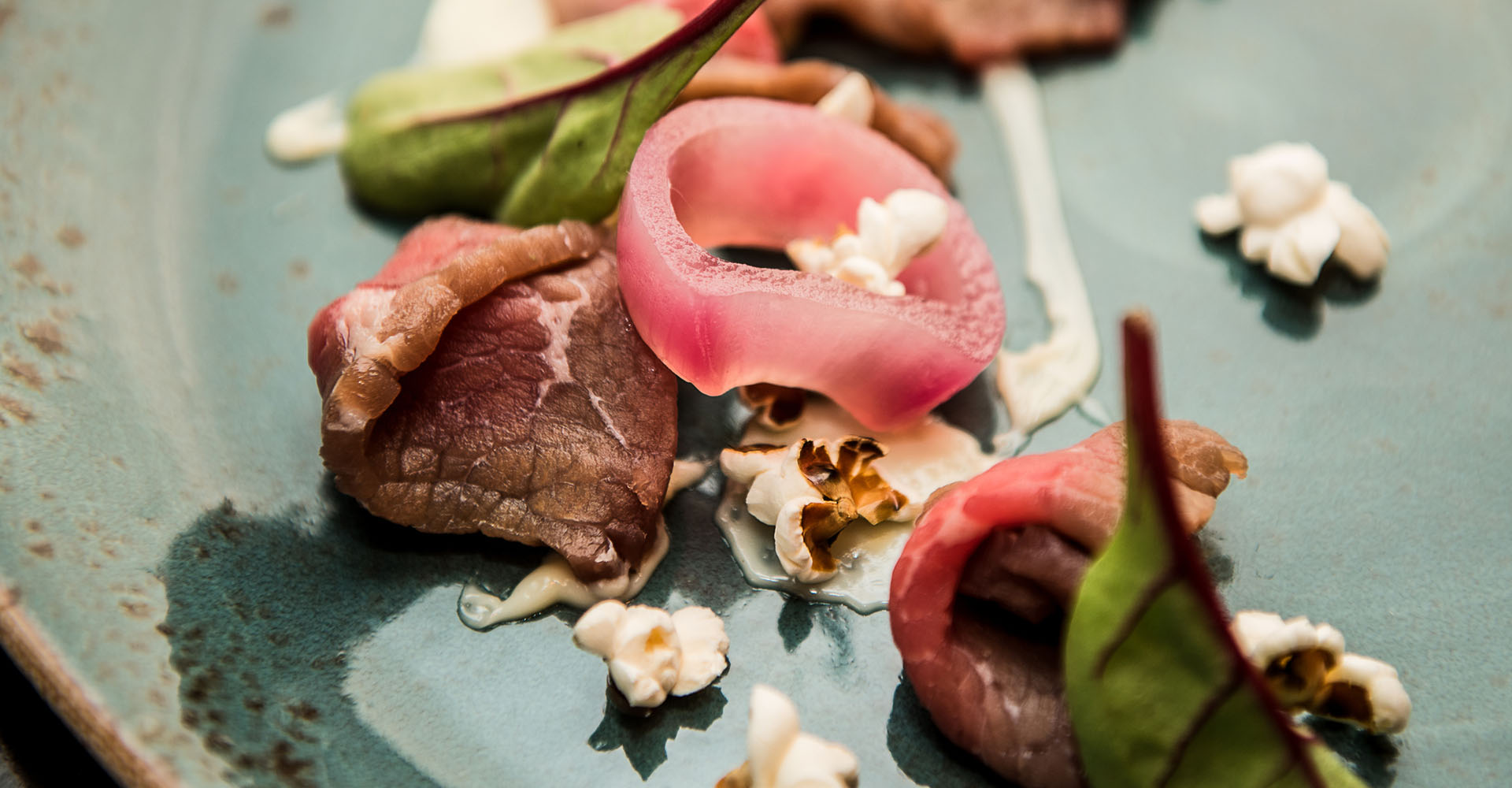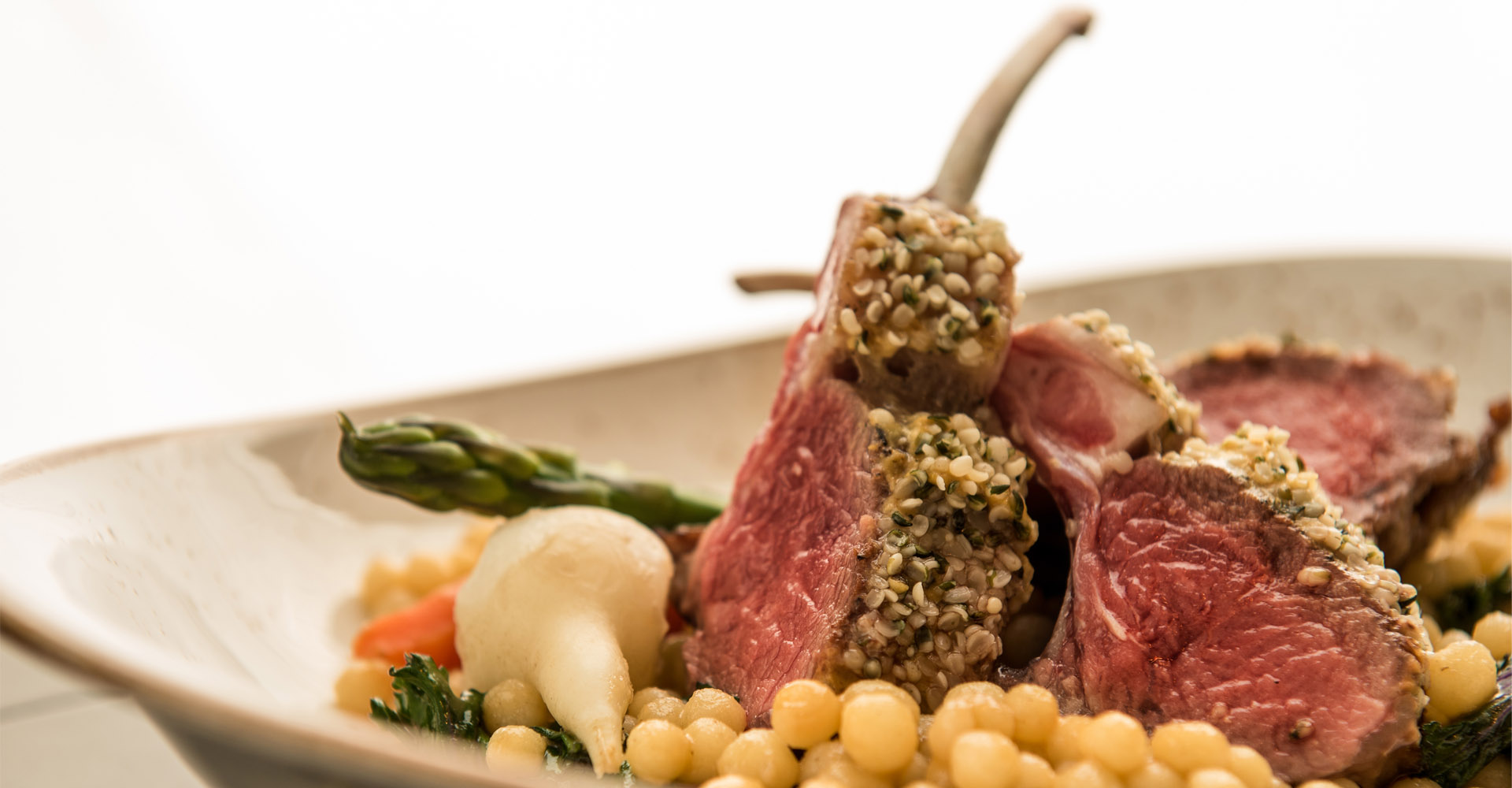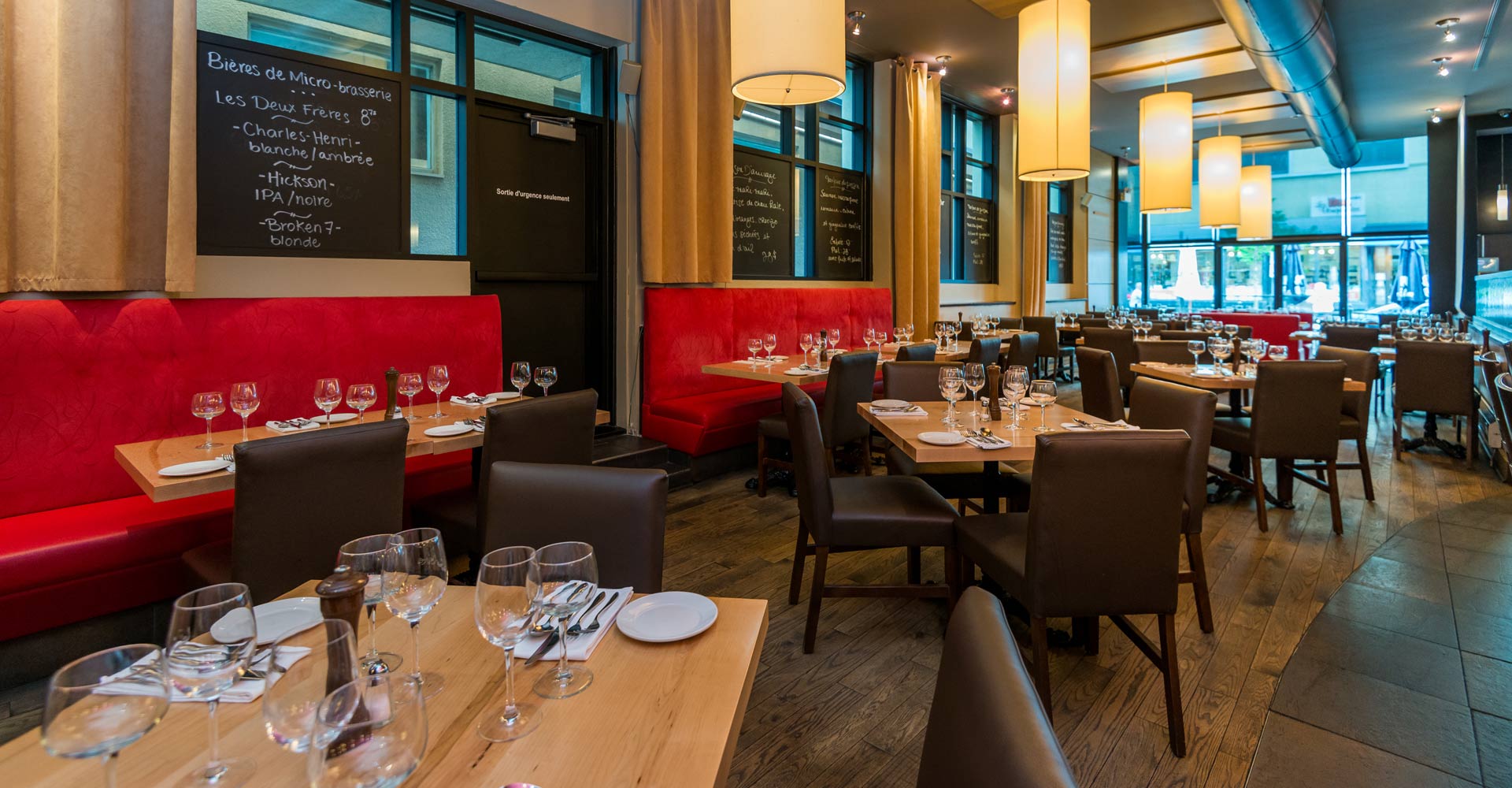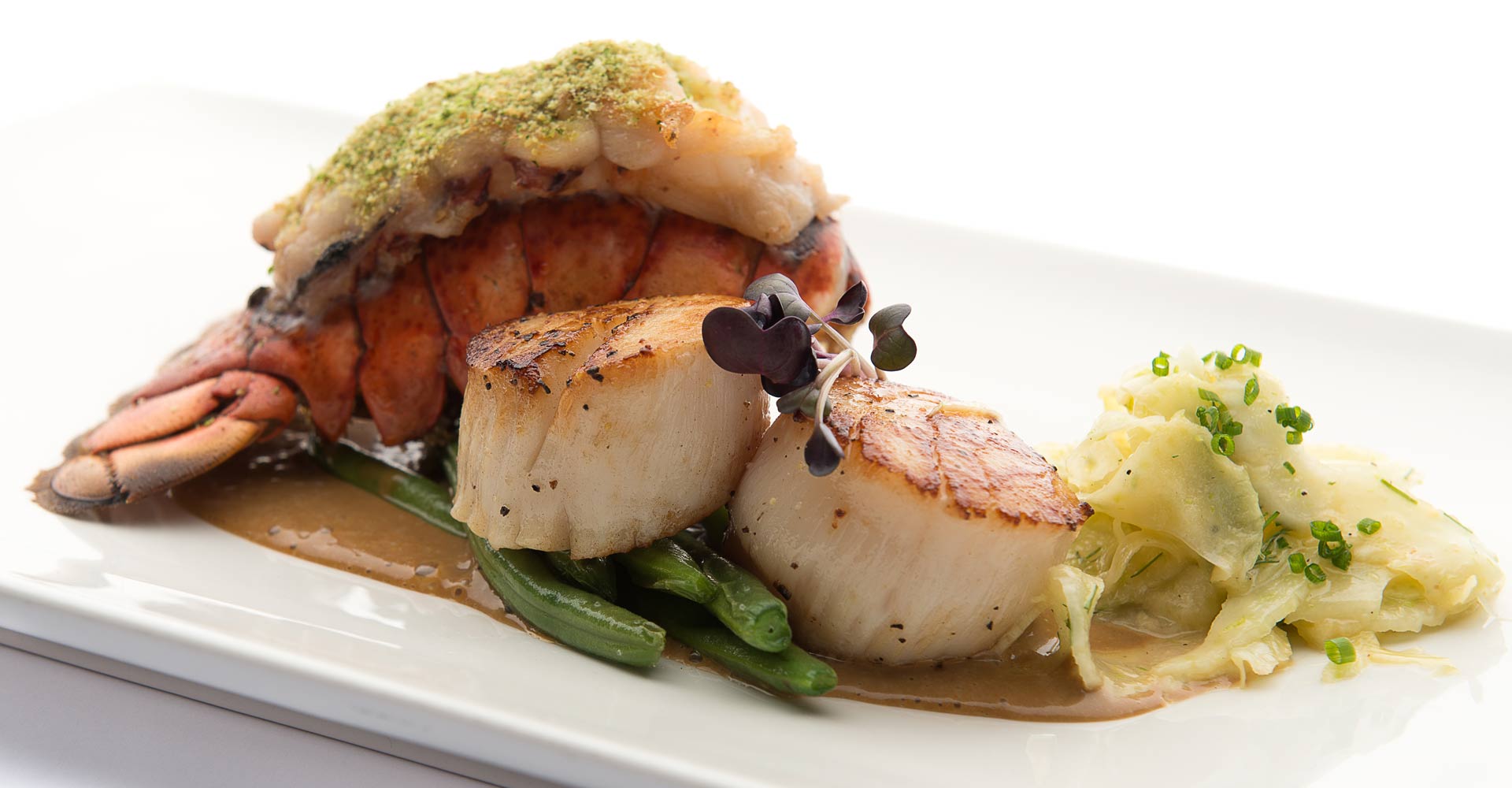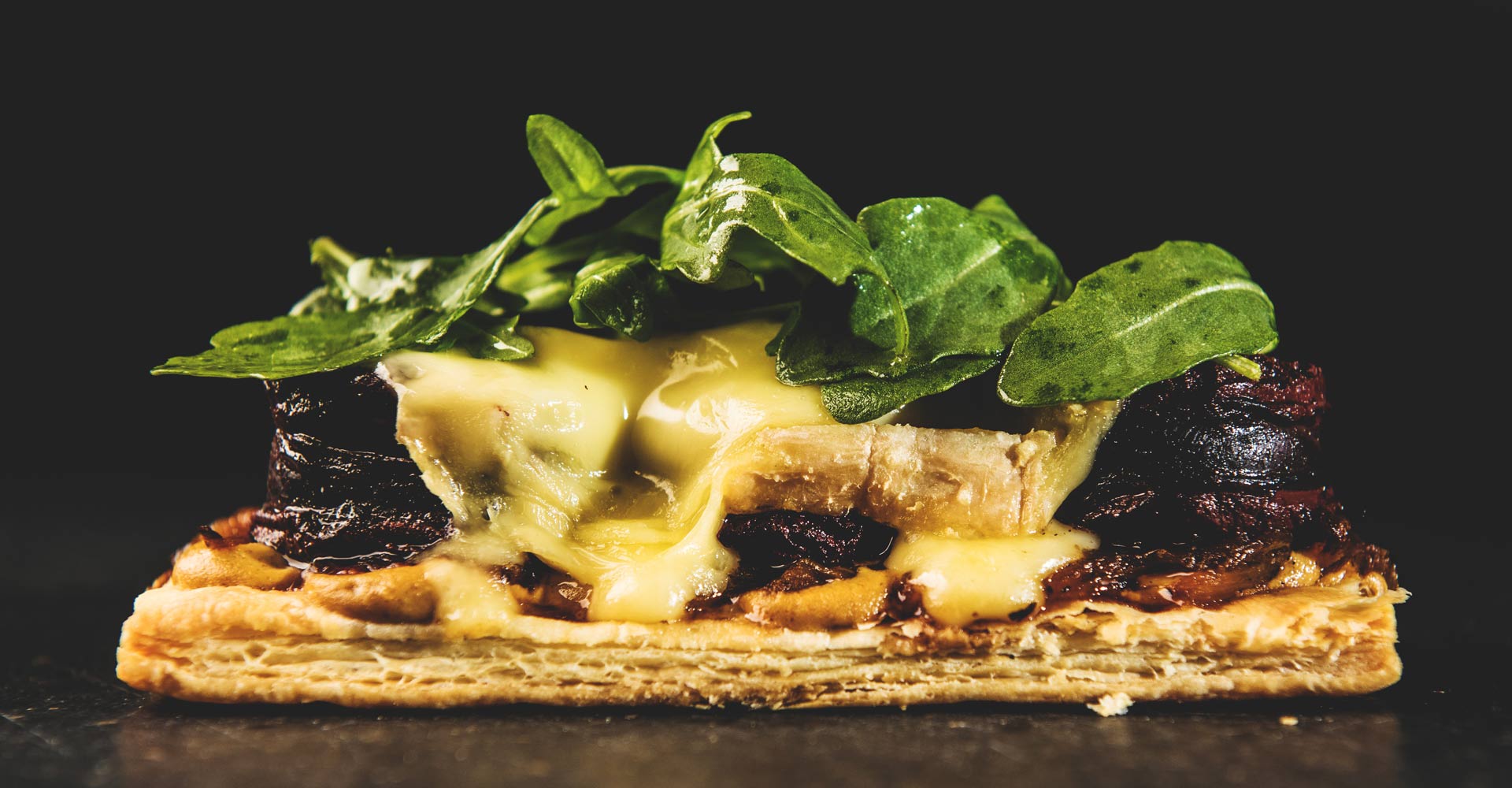 Menus
DINE & DRINK
We strongly recommend making reservations in advance. This enables us to serve you better. Reserve your table today!
OUR FORMULA AVAILABLE WITH ALL MAIN COURSES
CARTE D'HÔTE (3 services) : soup or salad, dessert and coffee = add + $14 on main course price
TABLE D'HÔTE (4 services) : choice of starter, soup, dessert and coffee = add + $26 on main course



THE CLASSICS STARTERS
Fried calamari
Saint Laurent parmesan and balsamic caramel
Daily fish tartare
| | | |
| --- | --- | --- |
| Starter | 15.00 | |
| Main course | 31.00 | |
Sautées mushrooms
Buffalo muzzarella, tartufata vinaigrette
Regional cheese fondue and rillettes of Perron pork
apple and old-fashioned style salad, red pepper coulis
THE CLASSICS MAIN COURSES
Seafood risotto
Québec's shrimps, lobster, clams, lemon zest confit
Bretzel crusted salmon filet
Aspargus millet, sauvage celery tomato salsa FG*
Beef tartare
classic recipe or with truffle oil, served with home fries and salad
Sirloin steak (Black Angus 1855)
| | | |
| --- | --- | --- |
| 8 oz | 35.00 | 80z |
| New York 16 oz | 52.00 | 16oz |
purée with Boivin cheese, vegetables, sauce choice:blue cheese or porto
Pastry of veal sweetbreads
Des Ruisseaux hydromel, Les Champignons du Fjord oyster mushrooms, truffle oil
Crusted rack of lamb, Ferme Tournevent hemp and Boreale Mustard
Israeli couscous of kale and fruity poplar tea
The General Tao
fried chicken breast, sweet & sour sauce, chow mein veggies, basmati rice
Black Angus Burger of the house
mushrooms, caramelised onions, Boivin aged cheddar with home fries and salad
Tagliatelle with duck confit
mushrooms, fresh cream, aragula, St-Laurent parmesan
SEASONAL MENU
Seasonal Table d'hôte available
THE DESSERTS
Mousse of Cheese & White Chocolate and Sea Buckthorn Jelly
Cheesecake, buckthorn jelly jam on a crust of puffed rice and white chocolate
Caramel Centered Chocolate Dome
Crunchy chocolate shell 72%, vanilla bavarian cream, caramel coulis on a crunchy biscuit
Boreal Chocolate
Chocolate fondant cake, pinewood custard and lichen confit
Homemade Pear Tart
served warm with melilot ice cream & Mellifère honey
Maple Crème Brulée
From Sucre dor Maple grove spiced with Coureur des Bois
Blueberry and Honey Sundae
Drizzled with chocolate caramel and whipped cream
*** Food allergies or intolerance, vegeterian diet, please inform the staff in order for us to offer a menu to suit your requirements.
* Menu items and prices are subject to change without notice and are displayed for informational purposes only.